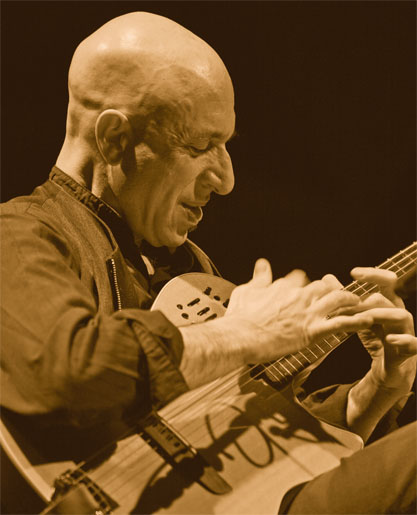 Here's another one from those dime-party shows, this time be
Elliott Sharp
and a very interesting mix of musicians (I'll not be so ignorant like the guy on BBC's "Jazz on 3" and just talk of "some fine Swiss musicians" when they broadcast last year's Willisau set by John Zorn, Bruno Amstad, Koch-Schütz-Studer & guests).
Koch-Schütz-Studer
happen to have been incorporated into Sharp's band here. They're a great trio on their own, check out some of their or Koch's own releases on
Intakt
!
Then, there's Hans Hassler, who usually plays folksier sounds (though by no means in a conservative or retrospective/nostalgic manner). He has a recent disc out on
Intakt
as well (bagatellen
review
).
Then there's another local on piano,
Claudia Ulla Binder
, and
Charlotte Hug
is on viola - she also appears in duo settings with Sharp.
Trumpet player
Thomas Heberer
and saxophonist
Tobias Delius
have both been playing with the ICP Orchestra (Misha Mengelberg, Han Bennink and others). Trombone player
Curtis Fowlkes
is a member of the
Jazz Passengers
, a group he co-founded with fellow ex-Lounge Lizard Roy Nathanson. Fowlkes has also appeared with Bill Frisell, John Zorn, Marc Ribot, and many others (including Sheryl Crow).
Bassist Dave Hofstra and drummer Sim Caine are from the US. About Caine (or is it Cain?) I don't know much, Hofstra I've first heard on a great disc by Philip Johnston. Here's an
interview
with Cain (as it's spelled there).
The music that's subject of this post comes from a concert from the great Taktlos festival. I didn't attend it, alas, but the radio broadcast included, as far as I know, some of the first part - a loose series of improvisations in variyng line-ups - and all of the second part, the actual piece of work "Syndakit" (I'm not sure the band is called "Syndakit", too, but this is how I have it in my files).
This is some challenging though highly enjoyable music!
Here are Elliott Sharp's notes on this concert (read more
here
):
May 10 - Taktlos Festival: Rotefabrik - Zurich
I've performed many times at the Rotefabrik over the years and it feels quite comfortable especially with many old friends in attendance. We're asked to make the evening more lengthy than Basel - a questionable strategy. In addition to the musician-chosen small-groups, I also conduct unisons. This set does not feel as taut with energy as Basel though there are some beautiful things - it's unfortunate to have an external time frame on improvisation. We're free of this for the second set of SyndaKit and the group takes off, performing a rocking version with exciting textural changes, layers, and unisons. The audience is wildly enthusiastic as are we! A fine end to the performance aspect of this tour.
In the morning I return to Firenze for a recording project with the percussionist-composer Alessio Riccio and return to NYC on the 13th. While always happy to come home, I dread facing the stifling and depressing atmosphere of the US under Bush. Because of the war and fears of anti-Americanism, we found there to be many less Americans in Europe, with sizeable numbers to be found only in Firenze. It's embarrassing to be seen as a representative of the heinous policies of the junta - it's fortunate that as performers, we have the possibility of explaining that there is resistance in the US, albeit well-hidden.
Elliott Sharp "SyndaKit"
Taktlos 2003
Rote Fabrik, Zürich (CH)
May 10, 2003

Elliott Sharp - guitar, electronics
Hans Koch - saxophones, bass clarinet
Tobias Delius - saxophones
Curtis Fowlkes - trombone
Thomas Heberer - trumpet
Claudia Ulla Binder - piano
Hans Hassler - accordion
Charlotte Hug - viola
Martin Schütz - violoncello
David Hofstra - bass, electric bass, tuba
Sim Caine - drums
Fredy Studer - drums

1. Syndakit (Sharp) > band intros ES (51:28)
2. Improvisation (27:01) [inc]
3. FM Talk (1:06)

TT: 79:39

Sound: A
Source: DRS 2 broadcast ("Neue Musik im Konzert") / 2003
Lineage: FM > minidisc > analogue to HD > GoldWave > FLAC (8)(asb)
Additional (2009): EAC (secure) > Cool Edit Pro (centred files) > FLAC (8,asb,verify)

Notes:
#1 was performed as part 2 of the concert.
#2 is only a part of the first, 80+ minute half of the concert, performed without interruptions, musicians walking on and off stage and combining in various line-ups.
#3 was #2 originally, I moved it not to disturb the flow of the music.