Andrew Cyrille, Irène Schweizer, Oliver Lake, Reggie Workman. Zürich, Rote Fabrik 2007. Photo: Francesca Pfeffer
:: first, here's a re-post ::
This is a companion piece to the Intakt CD recorded in Berne. The Zurich set was also recorded for possible release, but except for the duo by Schweizer and Reggie Workman, none of it ever saw the light of the day.
This of course is my own capture and far from CD quality, but in fact I think it's a pretty good recording.
Trio 3 is the collective group by saxophonist/flautist Oliver Lake, bass legend Reggie Workman and drum great Andrew Cyrille. They started working as Trio 3 in the nineties and have released several discs, including three on
Intakt Records
, my favourite hometown label. Andrew Cyrille has also recoded duos with Anthony Braxton and Irene Schweizer, all released on Intakt as well.
Reggie Workman of course is pure legend, having recorded with, among countless others, John Coltrane, Art Blakey, Freddie Hubbard, Yusef Lateef, Wayne Shorter, Lee Morgan, Archie Shepp, Booker Ervin, the Jazz Composers Orchestra, Booker Little, Cedar Walton, Charles Tolliver, Frank Wright, Roy Brooks, Alice Coltrane, Elvin Jones, Mal Waldron, David Murray... he was previously featured with a short solo set
here
. There's one of AAJ's "fireside chats" with Workman, to be read
here
.
As for
Irene Schweizer
, she's - alas! - still one of the best-kept secrets in improvised music, one of the finest piano players around. Intakt was originally founded for her to have a home, as no one seemed to really care and document her career. She recorded a series of duets with drummers such as Han Bennink, Pierre Favre, Louis Moholo and Günter Sommer, co-led Les Diaboliques with Maggie Nicols and Joëlle Léandre and worked with many greats, among others Fred Anderson and Hamid Drake, Evan Parker, Rüdiger Carl, or early on in a trio with Peter Kowald and Pierre Favre (Favre "Santana", FMP 0630). Some of Schweizer's finest recordings though were and are made in solo, for instance "Piano Solo Vol. 1" and the great "Chicago Piano Solo", recorded in 2000 at the Empty Bottle.
Oliver Lake
is a musician I've still not fully endorsed (not that it would matter, of course). He's a no bullshit player with a good sound both on alto and flute. Having started out in St. Louis' Black Artists Group (BAG), he went on to co-found the great World Saxophone Quartet with Julius Hemphill, Hamiet Bluiett and David Murray. His discography looks rather impressive by now, including albums with the likes of Baikida Carroll, Anthony Braxton, Sunny Murray, James "Blood" Ulmer, Andrew Cyrille, Karl Berger, and Lou Reed, as well as turning up on the great Wildflowers Loft sessions and of course many albums under his own name, the WSQ and more recently Trio 3. In a previous post I shared what is so far my favourite concert appearance by
Lake
, with a fine local rhythm section.
Trio 3 + Irene Schweizer
unerhört 2007
Zürich (Switzerland), Rote Fabrik
November 24, 2007

Oliver Lake - alto sax
Irene Schweizer - piano
Reggie Workman - bass
Andrew Cyrille - drums

1. (9:16) [quartet]
2. (7:28) [quartet]
3. (5:26) [piano/bass]
4. (6:28) [quartet]
5. (7:46) [quartet]
6. (4:55) [piano/drums]
7. (6:54) [trio]
8. (5:01) [piano/alto sax]
9. (6:54) [trio]
10. (5:52) [quartet - encore]

TT: 66:05

Sound: A- (mono)
Source: audience recording, front/centre
Lineage: crappy Sony mic > minidisc > analogue to HD > Cool Edit Pro > FLAC (8,asb,verify)
Recorded, transferred & shared by ubu

Note:
Only the right channel of my recording turned out usable, recording level dropped to a very low level due to whatever unknown reason, so I had to boost the volume.

The line-up that night was:
Yves Reichmuth "Fractal"
Lucas Niggli "Zoom"
Oliver Lake-Reggie Workman-Andrew Cyrille (Trio 3) feat. Irene Schweizer
Second, here's the Trio's Zurich concert from 2006. It contains some beautiful moments and strong playing by all three and I think it turned out pretty nice as well.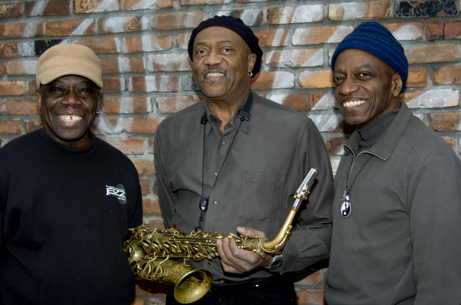 Andrew Cyrille, Oliver Lake, Reggie Workman. New York 2005. Photo: Dominik Huber
Trio 3 - Lake/Workman/Cyrille
Rote Fabrik, Zürich (CH), Clubraum
November 8, 2006

Oliver Lake - alto sax (flute on #6)
Reggie Workman - bass (little instruments on #5)
Andrew Cyrille - drums

1. Ann RW (0:44)
2. Lope (Lake) 9:45
3. unknown (Cyrille?) > Ann OL (7:02)
4. November 1 (Workman) 13:13
5. Abade (sp?) (Cyrille) 8:28
6. Valley Sketch (Lake) 7:15
7. unknown (4:50)
8. [d-solo] (3:24)
9. [as solo] (3:36)
10. [b-solo] (5:39) >
11. unknown (6:01)
12. unknown [encore] 9:47

TT: 79:51

Sound: A-
Source: audience recording (front row, left of centre)
Lineage: crappy sony mic > minidisc > analogue to HD > GoldWave (recording) > WAV > Cool Edit Pro (some editing, tracking) > FLAC (8,asb,verify)
Recorded & transferred by ubu
Shared on dimeadozen on March 24, 2009

*** productions ubu roi ***
***** never for sale! *****

Note: I sat slightly left, more or less in front of Lake and Workman, with Cyrille to the right - I figured I'd not get too much drums on my recording this way...